An infographic about infographics, an Instagram infographic + more online marketing links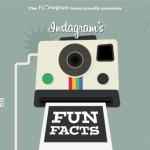 How traditional PR is stilling failing to succeed
The evolution of the Internet and social media has disrupted traditional public relations and marketing. It's critical to accept that there has been a shift in communications, and "that should change how we approach public relations; our audience has become trusted partners, and through real conversations over social media, they can help drive campaigns and be ambassadors to spread word of mouth about businesses in record time. Read more here.
15 Tips to Speed Up Your Website
Any search engine wants to provide users a great user experience, just like Google, and a fast site improves overall site quality and increases user satisfaction. Experiments demonstrate that increasing web search latency 100 to 400ms reduces the daily number of searches per user by 0.2% to 0.6%. Read more here.
How to create an Infographic
An infographic about how to create an infographic. To complete this recursive loop, read more here.
How to Create Marketing Emails Both Readers AND Inboxes Love
If you're unsure whether your emails are up to snuff for your recipients and their inboxes, reference this visual guide to creating an inbox- and reader-friendly email, complete with explanations for why all of these factors matter so much for your deliverability, open, and click-through rates. Read more here.
How Top Brands Are Using Instagram
Instagram's consumer adoption has been well documented, but how have brands tapped into the hot mobile photo sharing service? And just as importantly, what are brands that have decided to hold off really missing out on? Read more here. 
 Need More Engagement? Try a Game
Opens and clicks on email campaigns are dropping across the board as more email crowds your subscribers' inboxes. Try a game to get more traction. Read more here.