Content Marketing Demystified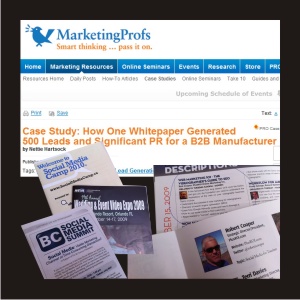 Like the changing of the seasons, the one thing we can be sure of in the world of online marketing is the regular rise to prominence of a new "killer marketing tactic."
This year's buzzword? Content marketing! Once again, like "inbound marketing" last year and social media, blogging and SEO in years gone by, marketers are now promoting content marketing as the silver bullet for gaining new customers.
That said, while there's a lot of hype around Content Marketing it is indeed true that it's one of the most effective ways to build your customer base. IF, that is, you do it in a meaningful manner and complement it with an overall multi-channel strategy.
So, what exactly is Content Marketing? Rather than giving a detailed academic definition, we'll put it in very practical terms.
Content Marketing:
Involves determining what kind of relevant content you can provide your audience that they will appreciate and will help position you as the expert in that area in their eyes
Can be online or offline and can include blogging, newsletters, white papers, case studies, videos, demonstrations, seminars, webinars, etc, etc, etc.
Involves figuring out how to get your content in front of your desired audience. i.e. you might use email to send newsletters to existing customers whereas you might become a contributor on an industry blog or host an educational seminar to become known to folks outside your immediate sphere of influence.
Simply put, content marketing is the practice of creating content and using it strategically to improve your credibility in your area and/or generate interest in your products or services.
There are several keys to great Content Marketing:
Forget about selling while you are creating your content (and focus on helpful content).
The above notwithstanding, have a strategy for converting "interest" in your content into leads or sales.
Make sure to leverage your content through as many channels as possible (blogs, newsletters, SEO, Social Media.
Talk with people from your audience to find out what interests them BEFORE you start creating your content (you'd be amazed how many people do it the other way around).
Start with smaller pieces of content to build further confidence in your approach before you invest tons of time in content creation.
Interested in finding out more about content marketing? I've been practicing these principals for over 15 years now both offline and online, and I'd be happy to share some very practical information in future posts.
That said, if this is of interest, please contact me (I read every single contact submission through our site) to let me know you want more written on this topic. Note: as you might guess, this is me trying to make sure this is a topic you're interested in before investing a ton of time in it, much like I recommend above.
Alternately, if you're interested in getting some professional help with content marketing, we're here to serve! Just contact us to find out more.