Tracking the Sources of your Zoom Webinar Signups
Zoom Webinars can be a powerful way to share content and interact with many potential customers in real-time, but how do you know where is your audience coming from?  If you've been promoting your webinar on social media, Google, or directly to your contacts, it's helpful to know which sources are providing you with the most sign-ups so you can plan where to focus your efforts for future webinars. 
Luckily, Zoom offers link tracking – you can create a unique link for each platform you're using to promote your webinar.
Let's take a look at how this can be done:
1.Log in to your Zoom account and navigate to the "My Account" tab.
2.Under "Personal," click on "Webinars." You will see the option to "Schedule a Webinar," or view your "Upcoming "and "Previous" Webinars.
3.Assuming you have an upcoming webinar already scheduled, click on the name of it.
4.Below the description and details of your webinar, select "Invitations."
5.You should see a Registration Link and below that, "Source Tracking Link."
6.Add a source tracking link and name it according to the platform you intend to use to share the link to. For example, Instagram.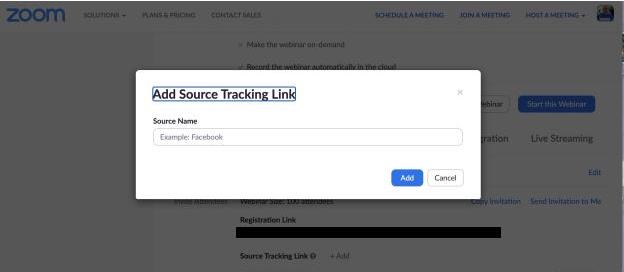 7.Copy the Source Tracking Link for each platform. For instance, if making a post about your webinar on Instagram, copy and paste  the Instagram Source Tracking link.   

8.You can also export your audience list to view all of your attendees, when they signed up, and which Source Tracking Link they used to sign up. Use the "Export All" option to do this. 

                                                                                                                                           We recently used the link tracking feature to understand where the audience for one of our upcoming webinars was coming from. We created 12 Source Tracking Links. Now for future webinars we run, we know how effective our promotion was on each platform and can make data-informed decisions about our future webinar promotion and advertising.